About AMN-Misting ApS
AMN-Misting ApS was founded in 2006 by John L. Christensen who's got a long history in designing and inventing products for the cooling and humidifying business. He saw an untapped market for even better and cheaper products for this line of business.
The philosophy of AMN-Misting ApS was a sober assessment of an industry worldwide, which is generally characterized by many smaller players who buy nozzles, fittings, pumps etc. for modular systems. Due to the industry's special construction, there has historically been a limited focus on the development of the individual elements to the larger modular systems and specialty tools.
For AMN-Misting ApS is the product development a very strong issue and has over time resulted in numerous patents and design registrations.
Product development is always focused on optimizing the process of mounting, so it does not require special training to mount or plan even more complex systems.
In 2019 the AMN-Misting ApS had to move into a new location due to the need of more space. This new head quarter includes both research and development facility, workshop, warehouse, pump system assembly stations and logistic department. – All in all we have the most vital functions in house.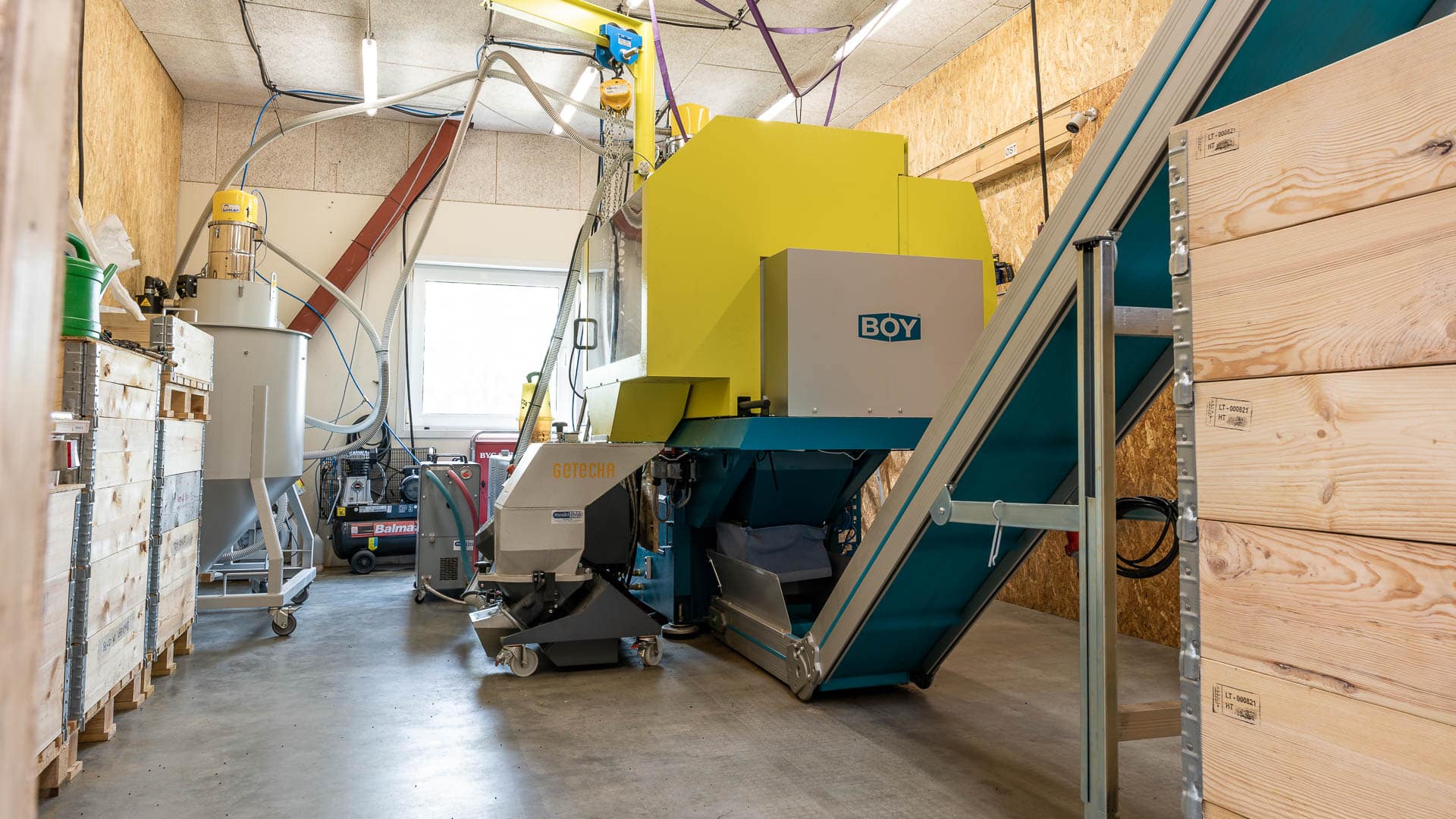 We have made investment in our own plastic moulding tool and moulding machine center integrated with robotics. All for 100% recycling of plastic inlet and 100% automatic 24 hour production. This gives us 100% control of the quality and high flexibility.
AMN-Misting ApS largely uses subcontractors to manufacture and assemble our products to ensure the best possible production facilities and variable capacity at all levels.
We prefer procurement without intermediaries, to ensure the best possible communication regarding quality and stable delivery but also to focus on the best price / performance ratio for the benefit of all parties.
Customer and End User in the Center
The purpose of all the company's activities – with customers and users at the center – is to develop and deliver the best products with the market's best price / performance ratio to a great satisfaction of customers and end users.
Target Group for Marketing
Our clear target group is a retailer who is in the market for supplementary products and has direct contact with the end user.
Our customer is the dealer who sells, install and service humidity or cooling systems to the user, and installs the systems as well.
We do not make exclusive distribution with any customer in any country or area, as our customers most often operate over large distances and very often across national borders.
Our products are delivered in a neutral design so that you can make it a part of your own brand and solutions.
CSR
AMN-Misting ApS has since the beginning had a stated goal of being a solid support for the local community and trying to create a sustainable business in terms of both the environment, health and safety. This applies not only within the company, but as far as it is possible collaborators will also be chosen from a sustainable CSR, regardless of where the partner is a resident. AMN-Misting ApS does not accept child labor or exploitation of employees. When it is possible AMN-Misting ApS use only energy efficient and environmentally neutral solutions for both production and shipping. This strategy is supported by clients being guided to produce and buy as much as possible locally when it is advantageous for the customer.
We Do Something About it in the Workplace
Our factory heating is 100% based on heating with heat pumps powered by electricity, primarily from locally produced alternative energy.
All light sources have been replaced with energy-optimized LED lights.
Travel activities are reduced to a minimum and communication is generally via video communication.
To avoid stress in everyday life – and to reduce driving to work, the option to work from home and a 4-day week has been introduced, especially for families with children.
We Do Something About it in our Product Focus
Our focus on the development of evaporative cooling is greatly energy-saving, as evaporative cooling greatly reduces energy consumption for ventilation.
In front of the heat pump / cooling surfaces, it reduces energy consumption and thus the efficiency very considerably.
Evaporative cooling can reduce the air temperature 2.5 to 10 degrees depending on temperature and ambient humidity.
Evaporative cooling and humidification are very important in the control of waste, especially in the storage of vegetables but also in the wood and cardboard industry, etc., as you can control the desired moisture level optimally.
When the plant is used for humidification, the indoor climate for humans and animals is significantly improved and at the same time problems with static electricity are significantly reduced, especially in electronics production.
Indoor working environment is significantly improved for both humans and animals, as the system can be used effectively for dust and odor reduction.
CEO and founder John L. Christensen
Vision
AMN-Misting ApS wants to be the preferred supplier in the misting industry.
Mission
AMN-Misting ApS will continuously keep developing the best and well thought out products for the misting industry.
Our Guiding Stars
Keep it simple.
Be bold.
We mean it.
Exceed expectations.
Our Image
A good work-life balance.
Social responsibility.
Reducing carbon footprint.
Energy efficient.
Product Philosophy and Development
High quality.
Easy to use and understand.
Few components with module construction and solution possibilities (as LEGO).
Product optimization with mass production in mind (low price).
Who is AMN-Misting ApS?
AMN-Misting ApS is a Danish innovative business located in the Northwestern part of Denmark.
AMN-Misting ApS was founded by John L. Christensen, who is the inventor of all the patented products. John has been designing similar products for 30+ years and has a huge experience in this line of business with high pressure cooling and moisturizing.
AMN-Misting Aps takes the word responsibility very serious in the widest terms. No matter if you as a client have questions or complaints or want to discuss the next series of products.
AMN-Misting ApS has a clear vision of making the world a better place for both people and livestock.
F.A.Q – Frequently Asked Questions
Is it really as easy to install these displayed products as you show on the homepage?
It is exactly as simple as shown in displayed pictures and videos. That's the genius idea behind all AMN-Misting's products.
Who develops and designs the products?
The founder of AMN-Misting John L. Christensen invents and develops all patented products in the product list.
What kind of products does AMN-Misting ApS export?
AMN Misting ApS exports various patented high pressure nozzle couplings and pipe systems, fittings and modular pump parts.
Where can I find your pricelist?
AMN-Misting ApS wants to supply all customers the best and most updated pricelist and therefore we only send this pricelist by e-mail and based on estimated order quantity.
How much do I need to change and do I need special tools?
There are in fact no changes in how you normally install high pressure plants, it is just much more simple and time saving to install these pipe system and AMN- Misting ApS nozzle couplings.
AMN-Misting ApS can supply you with all the needed special tools.
Simple installment videos available in technical info section at this website.
Can a private person buy from AMN-Misting ApS or do I have to find a local dealer?
No, we always refer an end-user to one of our local dealers.
Which end users can advantageously use nozzles and other products from AMN-Misting ApS?
1. Animal production with a focus on poultry, pigs and cattle
2. Greenhouses for production with a focus on vegetables, flowers, etc.
3. Industry with a focus on dust reduction in all shapes and sizes.
4. Outdoor cooling on terraces and other comfort areas.
5. Industry with a focus on cooling, including plastic foundries, iron foundries, etc.
6. Industry focusing on humidification, including electronics, wood, paper industries + supermarkets with vegetable departments.
7. Disinfection in both residental and open areas. Help to remove airborne viruses like Covid and flu.
8. Fire suppression with mist is very effective and gives less water damage than sprinkler systems.